Our experience for your safety
ATIB Material Handling is an established reality, always looking for technological and cultural innovation, with the aim of achieving the maximum performance of its products to better meet all customer's need.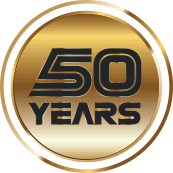 50 years of experience in the handling of goods
For 50 years we have been manufacturing high-performance Forklift Attachments and Masts, selected and used by numerous leading international brands. Safe and reliable solutions that can be mounted on different types of machines, such as Counterbalanced Forklifts, Warehouse Machines, AGV Systems.
The investments made over the years have allowed us not only to maintain the high quality of our products, but also to keep up with technological evolution, making us a dynamic and cutting-edge company.
The experience gained over the years identifies us and allows us to take advantage of our knowledge to define the most suitable solutions for each type of work and satisfy each of our customers.
Our networking across Europe and in some non-European countries allows us to be open to different cultures, responding promptly to every request through modern communication channels.
Quality System
Our activity, within the production of Equipment the handling industry, includes a careful selection of raw materials, the creative design of the products and the detailed care of the entire production process, and a focus on collaboration with local suppliers.
ATIB Material Handling Attachments and Masts: Reliable, Lasting, Safe
Our engineers are able to meet any request, designing not only standard attachments, but also developing special and customised products, specific for each type of work.

Want to know more? Please get in touch!
Information and Quotes